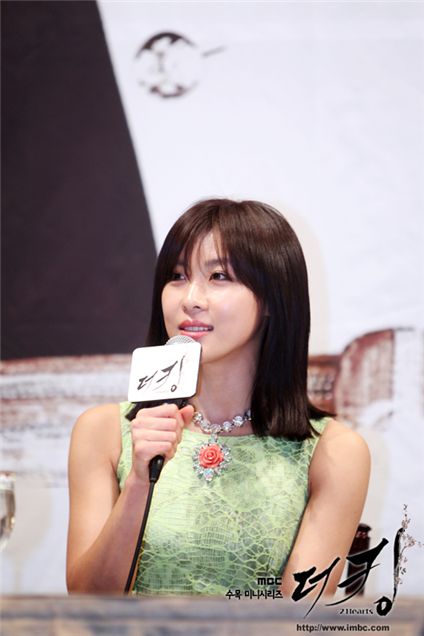 For a popular actress like Ha Ji-won, the last thing that she has to worry about is a marriage though she said that she hopes to figure out the meaning of it by portraying her character Kim Hang-ah who is set up for an arranged marriage in the new TV series "The King 2Hearts."
She made the remark during the press conference for the upcoming drama held on Thursday, where she shared her other thoughts about marriage with reporters.
"Several people around me tell me that I should get married because I have reached that age where I should. But I haven't given much thought about it......I feel like I want to get married but I don't exactly know what it is about," Ha said laughing.
"I can relate to Kim because she has lived all her life in becoming a successful Special Operations Force drill sergeant in North Korea and now she has reached the age at which she needs to get married just like me...... So her parents set her up to get married to Lee Jae-ha (played by Lee Seung-gi)."
Ha then said, "I had a dream one day in which I was Kim and I was getting ready to get married. I hope that through her I can figure out what the meaning of marriage is and maybe someday I will want to get married as well."
In "King," which is helmed by Lee Jae-kyu and written by scenarist Hong Jin-ah, the North Korean sergeant Kim gets sent to South Korea as a spy to get married to Lee, who is the Crown Prince of the country in a monarchical society of modern-day Korea.
Throughout the story, Kim and Lee face various obstacles regarding the two Koreas' delicate relationship as well as themselves before figuring out their feelings for one another.
The series, also starring Lee Yoon-ji, Lee Soon-jae, Yoon Je-moon and Yoon Yeo-jung, is scheduled to take over the Wednesday and Thursday primetime lineup starting March 21 after current series "The Moon Embracing the Sun" ends its run.
※ Any copying, republication or redistribution of 10Asia's content is expressly prohibited without prior consent of 10Asia. Copyright infringement is subject to criminal and civil penalties.

10 아시아 Reporter : Lucia Hong luciahong@
10 아시아 Editor : Monica Suk monicasuk@
<ⓒ즐거움의 공장 "10 아시아" (10.asiae.co.kr) 무단전재 배포금지>